Back To Black | Feria Hábitat Valencia 2023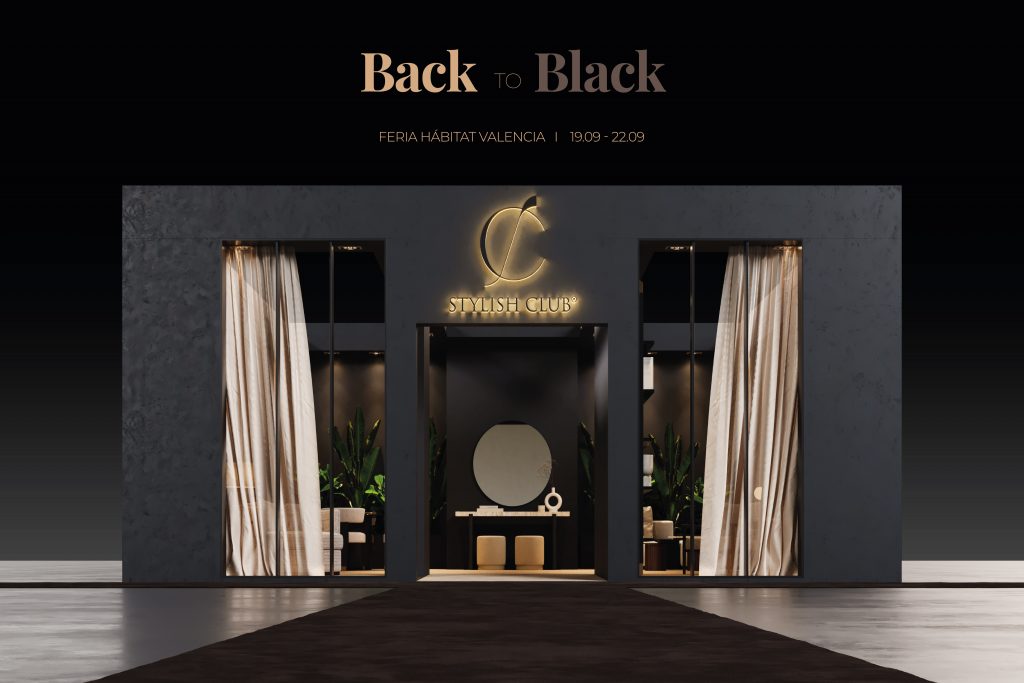 We're back in the Iberian city where innovation is repeated and reinvented over and over again. Stylish Club makes its presence felt by returning to its darker origins. There comes a time of transition, a revival of the glory days when design was classic, bold, and dramatic. As the saying goes, "We cannot become what we want by remaining what we are." It's time to break with the all-white trend and step into the richness of the past. 
Visit us at Feria Hábitat Valencia from the 19th to the 22nd of September at Level 3 – Pavilion 1 – C42 and join our exclusive club. 
Concept
Enter the "Back to Black" concept – a celebration of the blessed transition to a contemporary era at its peak, where classic and bold design choices take on the main character. Stylish Club will be in Valencia to reveal the hidden secrets of contemporary design.
When you enter this dimension, the air is filled with the scent of history. Dark, earthy colour palettes greeted us, a far cry from the all-white trend that has dominated for so long. This warm colour palette, designed by nature itself, is wrapped around you like a comforting hug, welcoming you home. This is a place where the house feels like a consistent extension of the past, where the walls whisper stories of those who had lived within them.

Saying goodbye to all-white-everything and holding the enamour of dark and earthy colour palettes. "Back to Black" delves into the idea that modernisation doesn't mean losing touch with the past. It's an opportunity to reinterpret and adapt beloved elements, infusing them with new life while maintaining their essence. This concept of emulating and modernising classic design elements, building the synergy between old and new, demonstrates how these two worlds can coexist to create spaces that are honestly timeless.
Stylish Club Pieces 
For this edition, we have brought you pieces that fully represent the versatility and refinement of the details. Neutral shades will balance out with darker, more dramatic tones to ensure harmony in this new concept. Find out first-hand which pieces we'll bring to this Habitat Valencia edition.


Empire Armchair  | https://stylishclub.pt/product/empire-armchair/ 
Natur Side Tables | https://stylishclub.pt/product/natur-side-tables/
His Sofa | https://stylishclub.pt/product/his-sofa/
Her Chair | https://stylishclub.pt/product/her-chair/
Landform Armchair | https://stylishclub.pt/product/landform-armchair/
His Day System | https://stylishclub.pt/product/his-day-system/
His Night System | https://stylishclub.pt/product/his-night-system/