Wabi Sabi – Interior Design Concept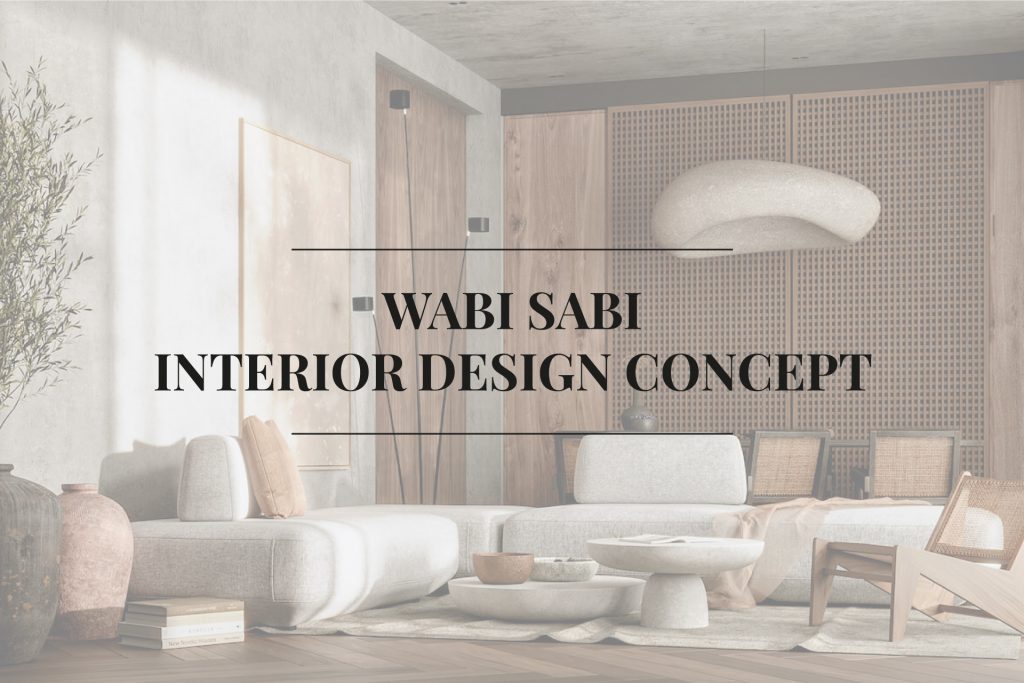 Wabi Sabi is a concept that recognizes the beauty of imperfection, learning to appreciate the passage of time and simplicity. This philosophy invites us to let go of the vanity of materialism so that we can instead achieve spiritual wealth.
A new aesthetic sensibility, the Wabi Sabi concept highlights the importance of life and serenity, away from everything that brings confusion and turbulence. Today we will present how you can adopt this lifestyle to your routine and especially to your interiors.
Wabi Sabi Concept
This philosophy translates "rustic simplicity" to "understated elegance", emphasizing the concept "less is more", seeking to bring the "pleasure of imperfection" into your lifestyle. 
Wabi Sabi offers a way out of the modern world's obsession with perfection and accepts imperfections as something even more beautiful. This concept helps you create a happier home and feel more fulfilled with life as it is.
Authenticity is one of the pillars of this philosophy, so cracks and imperfections are embraced as they symbolize the richness of the passage of time through them. Embracing this concept in the home teaches us to be selective about what we want and what we really need, with each piece having its purpose in the space.
This philosophy is about contemplating nature and materials that remind us of a more natural origin, such as steel wood and stone.
Rustic leisure and resting area – Credits: D-VSL
Wabi Sabi Principles
In the concept, "wabi" refers to what is rustic and "sabi" refers to time and how it carries marks, which denotes its beauty. Referring to a view of life, this concept points to a philosophy that accepts the inconsistency and imperfection of human existence.
Wabi-Sabi is the art of valuing simplicity and modesty. Authenticity is fundamental to this philosophy, and the presence of cracks and scratches on furniture pieces is considered a symbol of the passage of time.
Textures are great allies in this concept, because they are able to bring an unusual sensorial experience to the atmosphere. For this reason, the use of stones, fabrics, and everything that invites touch is valued.
The use of organic elements is quite common in this style. Relevance to the use of ceramic pieces, straw and other natural fibers, as well as wood, strongly characterizes this concept.
Entry hall with natural materials – Credits: Otosection
Wabi Sabi Interiors
The Wabi Sabi design, being a style very much linked to nature, demands that its materials be more natural elements, such as natural wood, stone, and wicker, and the more marked by the passage of time the better. In the selection of fabrics, linen is recommended. This material wrinkles easily completing an ideal look for this concept.
In terms of colors, this philosophy is connected to the earth, making its colors warmer and more welcoming. This includes beige, brown, shades of gray, and white.   
When looking for accessories that match the Wabi Sabi art and philosophy, connect with simple elements. A piece of bark with moss and some candles can make the decor distinctive, as can a decorative tray and bowls.
Wabi Sabi is a trend that works directly to find beauty in something imperfect, and with this assumption feel free to place in your decor broken pieces that have been restored again or with some dents in certain edges. The placement of furniture with axes are enhanced rather than hidden in this style. 
Kintsugi pottery is a technique that glues back broken objects with gold glaze. By giving pottery a new life, we celebrate the fact that it was once broken but instead of hiding it, we make it stand out. 
Biophilic design marks a strong presence in this style, where it focuses on introducing natural elements into the decor such as lighting, forest aromatherapy, abundant plants and fresh air.  
In closing, a key principle of wabi-sabi is to fill the home with pieces that have sentimental value or a story connected to them. Heirloom antiques and unique pieces will give a unique quality space, making it feel like a real home. 
Living room with natural elements – Credits: Natalie Gisborne
Natural light and greenery – Credits: D-VSL
Bedroom in an intimate atmosphere – Credits: Decoist
Stylish Club Pieces
Stylish Club as a luxury furniture brand looks to fit its products into the design styles that follow the trends, having unique and elegant designs. We now present four magnificent pieces that reflect a minimalist atmosphere.
The round top combined with a curved line foot gives the low Olivier coffee table an elegant appearance. With its simple lines and Nordic-inspired design, it can be used as a side table or coffee table. Combine it with the high coffee table to transform your living room or bedroom.
The Sevilha night table is a functional piece that charms with its simplicity and elegance. It features one drawer offering plenty of storage. A piece of furniture in warm tones and luxurious finishes that fits in with any bedroom decor.
A piece that provides the best family moments, the Landform dining table adds sublime finesse to the dining room. With an oak wood structure and a polished ceramic dekton top, this piece completes the Landform collection in an exclusive and luxurious aura.
With a comfortable backrest and supportive arms, the stylish Landform armchair upholstered in plain fabric features matte oak wood legs. Nordic-inspired in grey and beige, this armchair adds a warm, minimalist touch to any setting.
Stylish Club Selection