Highlights Stylish Club | Portugal Home Week 2023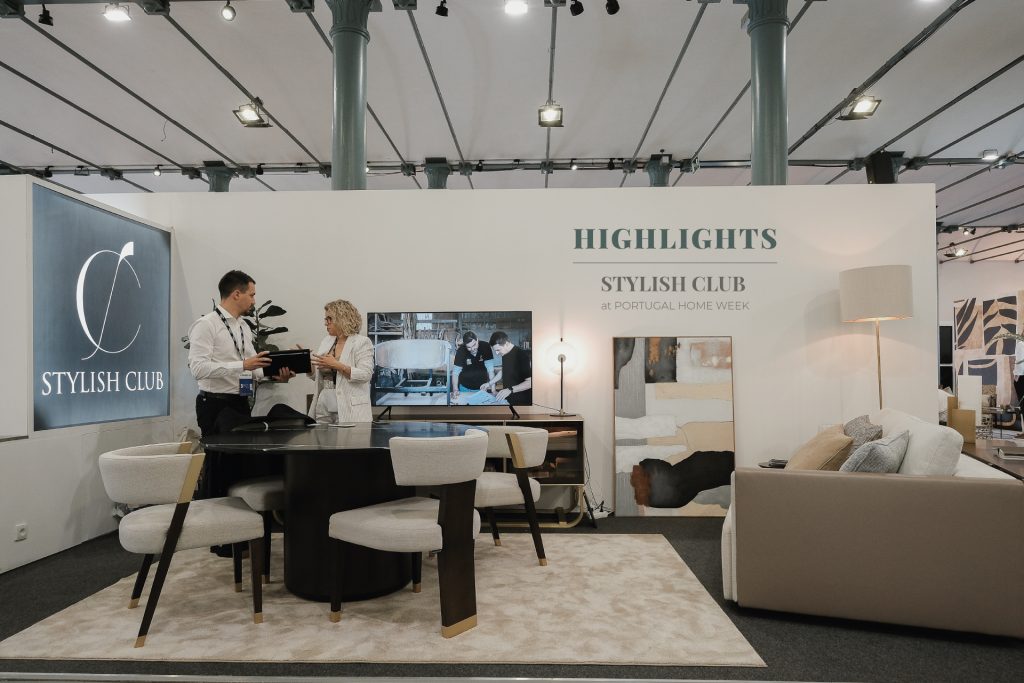 In a careful and exquisite selection, we took our pieces to Portugal Home Week for another edition designed for professionals who are passionate about the world of furniture and all related sectors.
With this fair we wanted to bring a collection launched in 2021, HIS & HER,  that presented itself as an aesthetic landmark of the Stylish Club brand, characterised by pieces that become keywords in a home directed towards good taste, functionality, and a cosmopolitan lifestyle. Watch now all the moments of this edition of Portugal Home Week.

His & Her are complementary collections whose aim is to affirm the brand´s aesthetic. These two collections are inspired by artistic movements from the beginning of the 20th century, namely in the aesthetic plurality that spread throughout Europe of Art Nouveau, and later in Art Deco, as well as in an international style that has developed around the world.

For this edition of Portugal Home Week, we wanted an atmosphere that would transmit the beauty of the simplicity of contrasts and that would somehow meet our clients' needs.
Atmosphere with pieces from His & Her Collection
Exhibited Pieces
Take a look at some of the pieces on display at our stand.
His Sofa
Her Dining Table
Her Chair
Sales Team
Portugal Home Week Stand
Meeting with Clients

The His modular sofa, with personalized fabric upholstery and leather armrests, combines elegance and design. You can add a side table with a drawer or a pouf for extra space and storage—an invitation to relax and enjoy moments with friends or family.
The sofa is designed down to the last detail for your comfort and rest. Its straight lines illustrate a versatile and modern piece, carefully manufactured to provide the best possible experience.
The modular characteristic allows for diverse configurations without sacrificing comfort and a modern look. This sofa is a best-seller of the brand and includes a side table that adds unique practicality to it. The high quality of the finishing materials reflects the essence of Stylish Club.
His Sofa
Details
An imposing and powerful piece, The Her dining table follows a minimalist design that fits perfectly into any decorative environment. This versatile piece can be used both in your office and for sharing family moments.
The elegance of this piece reminds us of the true meaning of luxury, as it can accommodate up to ten people. It is a sophisticated rectangular piece that adds glamour to your space.
The sturdy wooden base with brass detailing contrasts elegantly with the delicacy of the top, making it the focal point of any dining room.
Her Dining Table

Featuring a natural wood structure and upholstered in bespoke fabric, the Her chair showcases elegant metallic accents. The stunning combination of contemporary design with a classic touch offers comfort, embodying the brand's androgynous aesthetic identity.
As a piece of exclusive design, the Her chair asserts its essence, both in its design and in the finishing materials that envelop it. It is the perfect piece to elevate your dining room with a modern and refined ambience.
The brass details add a unique touch of sophistication to this chair. The seat upholstery ensures superb comfort and superb decoration for your meals.
Her Chair
In a modern and sophisticated environment, the Her low console stands out for its use of high-quality finishing materials. This attractive console will make a significant impact on your living room.
It provides an ideal platform for presenting your decorative items with elegance and luxury. The subtle contours of this piece fill spaces discreetly yet with purposeful intent.
Her Low Console

The His Sideboard aims to affirm the brand's aesthetic. This piece is inspired by artistic movements from the beginning of the 20th century. With four bronze glass doors, it offers plenty of storage space.
Discreet yet elegant, the His Sideboard is one of the main features of the dining room. With multiple functions, this piece complements the decoration of spaces like never before. Decorative items gain prominence when placed above this excellent piece of design.
The bronze glass on the doors of the His sideboard adds a singular glamour. The dining room utensils are now displayed in a showcase that allows you to appreciate the beauty of your favourite pieces. It's a unique and beautiful combination.
His Sideboard
Request more information
If you didn't get a chance to visit us at Portugal Home Week, don't worry. Click here and receive all the information we provide digitally at the fair.
Meeting with Clients
Sales Team