Fall Interior Design Inspirations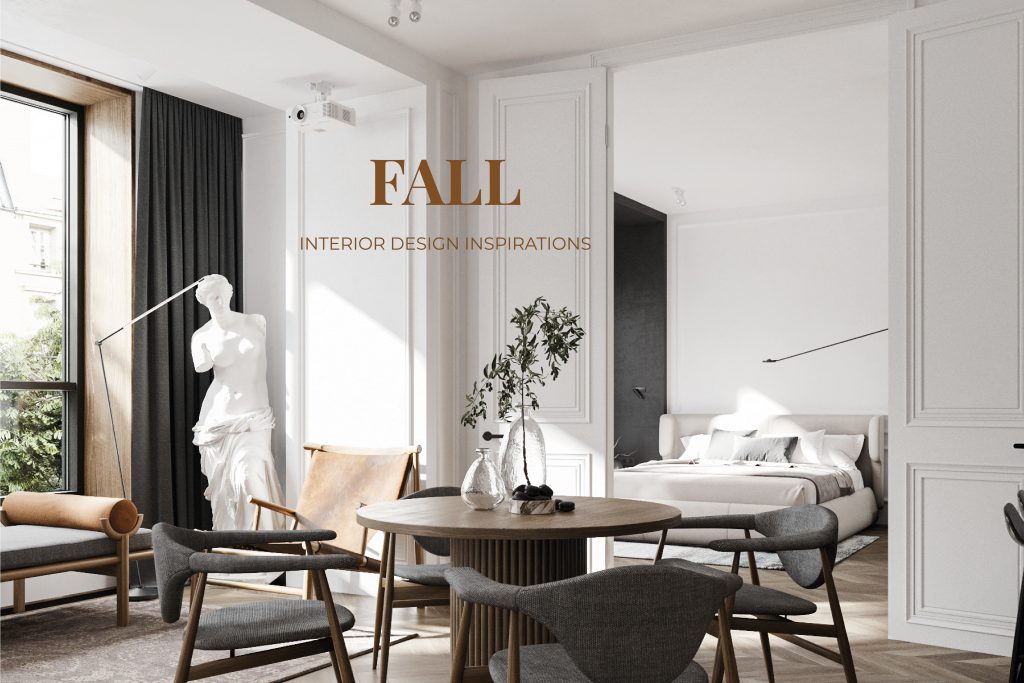 As autumn graces us with its warm colours and cool breezes, it's the perfect time to envelop your home in the snug embrace of the season. In 2023, we are witnessing a delightful fusion of timeless charm and contemporary style in fall home decor. From rich hues to inviting textures, let's delve into how to infuse your living spaces with the spirit of autumn.
Plaid Patterns: A Timeless Trend
Plaid patterns have made a grand return this fall, leaving an indelible mark on the global home decor landscape. Whether accentuating throw pillows, blankets, or upholstery, plaid serves as a versatile canvas for a spectrum of colour combinations to suit your unique style. By incorporating plaid, you can instantly transform any room, infusing it with a rustic charm that reflects the essence of autumn.
Plaid pattern as a living room floor | Credits: Abingdonflooring.co.uk
Beige and white plaid wallpaper | Credits: landing.phillipjeffries.com
Autumnal textures and patterns | Credits: Pinterest
Classic Elegance with Seasonal Accents

The most enduring fall decorating trends blend classic decor with seasonal embellishments, creating a harmonious ambience in homes around the world. Consider introducing antique furniture pieces or vintage-inspired accessories to your living space. To evoke the essence of autumn, infuse your decor with seasonal accents like gourds, pinecones, and dried leaves. This fusion of timeless elegance and seasonal elements crafts a warm and inviting atmosphere for interiors worldwide.
Decorating with plants in an autumn atmosphere | Credits: Thesefourwallsblog.com
Decorative details in warmer tones | Credits: Hattiekolp.com
Year-Round Fall Colours
In 2023, fall colours are no longer confined to one season but have become a global interior design choice. Earthy tones such as deep reds, burnt oranges, and muted yellows now grace furniture, wall paint, and decor elements creating inviting spaces that transcend the autumn months.
Camel leather armchair with curved lines | Credits: Estliving.com
Distinctive sideboard with straw doors, perfect for autumn | Credits: Mydomaine.com
The Emergence of Green Paint
Green will take the lead as a popular global colour choice this autumn. From muted sage to deep forest green, these shades can infuse your home with a calming and snug ambience. Consider painting an accent wall, introducing green furniture, or incorporating green textiles to offer a fresh perspective on fall decor.
Green colour on the wall | Credits: Homes to love.com
Lime green as the living room background | Credits: Paint and paper library.com
Cozy and Vibrant Sofas
The heart of your living room, the sofa, emerges as the warmest and most vibrant spot in homes worldwide this fall. Opt for sofas in warm, inviting colours like deep burgundy, rich mustard, or jewel-toned shades. Enhance overall comfort and aesthetic appeal by adding plush throws and textured cushions.
Living room with elegant pieces of furniture | Credits: Mikaellundblad.com
Curved furniture trend in interior design | Credits: Casatreschic.blogspot.com
Embracing Natural Elements
Celebrate the beauty of the natural world by incorporating organic materials into your decor. Wood, stone, and rattan furniture can introduce rustic elegance to homes worldwide. These materials harmonize seamlessly with fall-inspired accents, fostering a connection with nature.
Earthy tones as a design highlight | Credits: Behance
Cosiness and comfort in the open space | Credits: Behance
Luxurious Textiles: Velvet, Cashmere, and Wool
To capture the essence of fall globally, indulge in sumptuous textiles like velvet, cashmere, and wool. Known for their softness and luxury, these materials can elevate your decor. Consider velvet throw pillows, cashmere blankets, or wool rugs to create a luxurious and inviting atmosphere in homes around the world.
Pieces of furniture in a rustic style | Credits: Armadillo
Irreverent design in a contemporary style | Credits: Behance
Taper Candles
Candles play an indispensable role in creating a snug fall atmosphere, and taper candles are making a stylish comeback for dining and decorating around the globe. Place them in elegant candleholders to cast a warm, flickering glow throughout your home during the fall season.
Gold candle holder | Credits: Westwingnow.de
Sophistication in a candle holder | Credits: Walmart

Stylish Club Suggestions

Do you feel that your project needs to be reinvigorated and you're missing the key pieces to accentuate its flavours? Let yourself be inspired by our suggestions and trust in the best quality and the sense of irreverence of functional pieces and choices.
His Occasional Armchair
His Coffee Table
His Occasional Armchair | https://stylishclub.pt/product/his-occasional-armchair/
His Coffee Table | https://stylishclub.pt/product/his-coffee-table/
Fortune Sofa | https://stylishclub.pt/product/fortune-sofa/
Bridge Side Table | https://stylishclub.pt/product/bridge-side-table/
Her Mirror
His Console
Her Mirror | https://stylishclub.pt/product/her-mirror/
Her Stool | https://stylishclub.pt/product/her-stool/
His console | https://stylishclub.pt/product/his-console/
Sublime Stool | https://stylishclub.pt/product/sublime-stool/