5 collections, 5 iconic pieces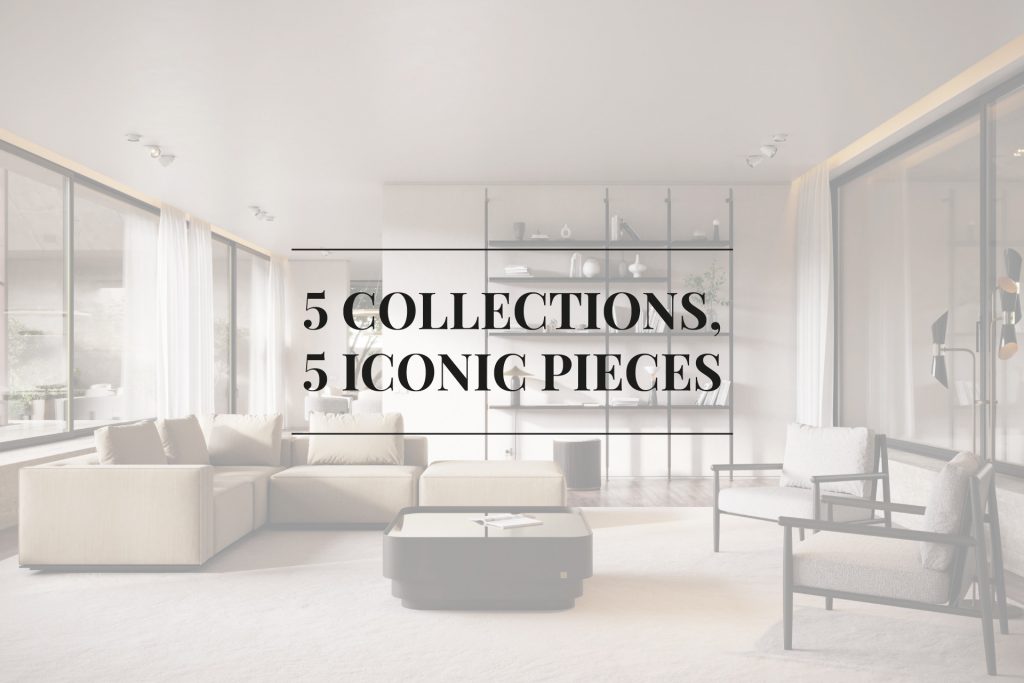 A brand that preserves its personality and irreverence, Stylish Club seeks to include in all its collections memorable pieces that tell a story and that make a difference in your space. 
From artistic concepts and inspirations of our designers are born the best collections and from them result products that will, without a doubt, impact your decoration. With that purpose we decided to present you 5 collections with 5 pieces of exclusive design to prove the exceptional final result of our work over the last years. Be inspired!
His & Her are complementary collections whose aim is to affirm the brand´s aesthetic. These two collections are inspired by artistic movements from the beginning of the 20th century, namely in the aesthetic plurality that spread throughout Europe of Art Nouveau, and later in Art Deco, as well as in international style that has developed around the world.
Two of the standout pieces from this collection are the His bookcase and the Her dressing table. These pieces are highlighted by their elegant design that, although iconic, is still practical and functional.
With its black iron structure and mate wooden shelves, the His modular bookcase combines elegance and modern design. A multifunctional and personalised bookcase in the position of the shelves and finishes.
A piece that favours detail, the His bookcase is the ideal synonym of glamour and practicality. Produced with a noble finishing material, this is a piece that provides an organised atmosphere without losing its refinement.
In a totally irreverent design, the His bookcase reveals the creativity of our designers in creating an exclusive piece adapted to the needs of those who follow us. The modular shelves allow for different configurations, creating an additional desk without losing the minimalist look.
His Bookcase
The real fairy tale. Subtlety is in the contours of this piece of unparalleled design. It provides a room with a sophisticated and practical atmosphere. Fill your bedroom with elegance in its purest state. 
The peculiar shapes of this dressing table set it apart from anything you've ever seen. The curved mirrors provide a wide field of vision, helping you in your daily tasks. An excellent piece that combines functionality and refinement.
The high quality of the materials of the Stylish Club pieces are the identity of the brand. The oak wood veneer reveals the durability and density of this dressing table, ideal for keeping in your room for a long time. The shine of the glossy lacquer gives it the glamour you desire.
Her dressing table
Landform Collection
In a Haussmanian inspiration, you will find in this collection the noblest characteristics of this style. A discrete colour palette, between off-white and white, an avantgarde atmosphere that emphasises the nature of the materials, the simplicity of the designs and the sophistication of unlikely combinations. Our brand now arrives to bring out innovation, style and luxury in the most iconic design pieces.
The Landform dining table is, without any reservations, the remarkable piece of this collection both for the materials used and for the functionality of being extendable, which gives it a distinctive factor from other dining tables. 
A piece that provides the best family moments, the Landform dining table adds sublime finesse to the dining room. With an oak wood structure and a polished ceramic dekton top, this piece completes the Landform collection in an exclusive and luxurious aura.
With a subtlety of details, this dining table affirms an irreverent but discreet look that makes possible an intimate and sophisticated dining room. The space of unforgettable meals with an unique conviviality area, harmoniously combining with the rest of the decoration of the dining room.
Landform dining table
The Club collection is inspired by exclusive clubs devoted to socializing among privileged members. In order to create functional areas that serve the purpose of a club, this collection features pieces in which the focus is flexibility, without losing sight of luxury, elegance and exclusivity. 
All the pieces in this collection are very special and singular for their luxurious and unique touch in every detail, however the club sofa has brought to this collection a different and exciting attitude. From its colour to the fabric, this sofa has made its mark on the interior design of living rooms.
A modern style and vintage-inspired model, the Club sofa features an upholstered surface in top-quality yet easy-care leather. The backrest with rounded curves provides density and comfort.
Versatile, practical and with a unique look, leather is a perfect fabric for a luxurious living room. The sophistication and comfort that leather provides is ideal if you are looking for a soft touch texture.
The curves of the Club sofa are the secret to a relaxed, bold and unique look. A piece that stands out for its colour, leaving no one indifferent.
Club Sofa
The Fortune collection creates a disruption of the traditional. The joining of different materials and the combination of straight lines creates pieces that escape the conceptualization of existing furniture, providing a new way of facing elegance and glamour .
For its versatility and sophisticated simplicity, the fortune chair is distinguished by its rounded and minimalist forms that offer singular comfort at mealtimes.
The Fortune chair stands out for its comfort, with a deep back and curved arms. A very comfortable chair that can complement any environment. 
Magnificent and elegant, this chair elevates any environment in which it is placed. It complements a dining room in a modern and minimalist design.The dark oak finish of the legs adds an organic touch to the look. The beauty of a cosy dining room is essentially centred around a comfortable, high quality dining chair.
Fortune chair
Cocktail Collection
The Cocktail collection is inspired by the homologous drink which consists of a mixture of different drinks. This collection is, in itself, a conglomerate of shapes and materials, and we can identify in every piece a combination between the contemporary design of the outer edges (rectilinear), and the classic design found in the details of the interior limits. 
Cocktails are often associated with high society events and, as a consequence, luxury, glamour and elegance. These are also attributes that define the Cocktail collection, via the wealth of materials and textures used. 
Straight lines in metal contrasting with the liveliness of wood, the cocktail console portrays the refinement and delicacy of an incredible design.
The three-drawer Cocktail console in gloss blackened oak is set in a bronze brass structure that highlights the sophisticated essence of Stylish Club pieces. Luxurious and modern, it adds a glamorous touch to any space.
Delicate and lovely, this piece reveals to be the perfect choice for a classic or even modern style environment. The combination of different materials has created this successful result.
It's in the details that beauty is found. The handles of the Cocktail console in bronze brass give the necessary touch for this piece to become a piece of admiration in your space.
Cocktail console
Materials
The success of these pieces comes hand in hand with the choice of the right materials that combined with the right designs have completed truly awe-inspiring monuments. Find out which finishes are used on our iconic pieces and their characteristics.
Leather
Whether synthetic or natural leather this is a luxury material that is easy to clean and maintain.  Its durability contrasts with the softness of its texture. One of the great advantages is its adaptation to temperature, both in summer and winter. It's recommended to keep it away from direct sunlight or any other heat source. This is a hypoallergenic fabric, perfect for families with children.
Textured fabric 
When it comes to resistance, elasticity and quality, textured polyester stands out. Its composition is made from a set of continuous filaments, which are textured through a mechanical system and then heated, thus arriving at the final result. This process guarantees several benefits to the fibre, making it really sought after by most people who want a synthetic fibre.
Marble 
Marble pieces lend an incredible sophistication to spaces, where they combine very well with wooden floors.The low maintenance requirements are a luxurious addition to your amazing decor. Although marble pieces can be a little more expensive, the return on investment is totally rewarding. 
Wood 
Pieces produced in wood are one of the choices due to their classic and timeless beauty. Versatile, they come in a variety of designs and styles. Wooden designs stand out for their cosy aesthetic that blends effortlessly into the decor. 
A sustainable material that produces a superior energy feel compared to other materials such as glass and aluminium, this will be your safe choice to provide a refined, homely and aesthetically appealing space.
Metal 
Metal is a trending material for those who want a coffee table with a modern design. Most metal pieces come with elegant and delicate bases and tops, however a sturdy frame can be a great option to fill out your settings.
A noble and durable material, with an incredible demand in the furniture industry, metal is a luxurious and quite versatile element in interior decoration. Choosing furniture in this material will depend on your preferred design direction, you can opt for industrial, Scandinavian, or even more classic looks.
Request your iconic piece
At Stylish Club you can customize and choose the piece of furniture that best suits you and your personal preference. Fill out our form and request more information, so that you can clarify all your doubts about our products. https://stylishclub.pt/products/