Timeless Pieces Of Design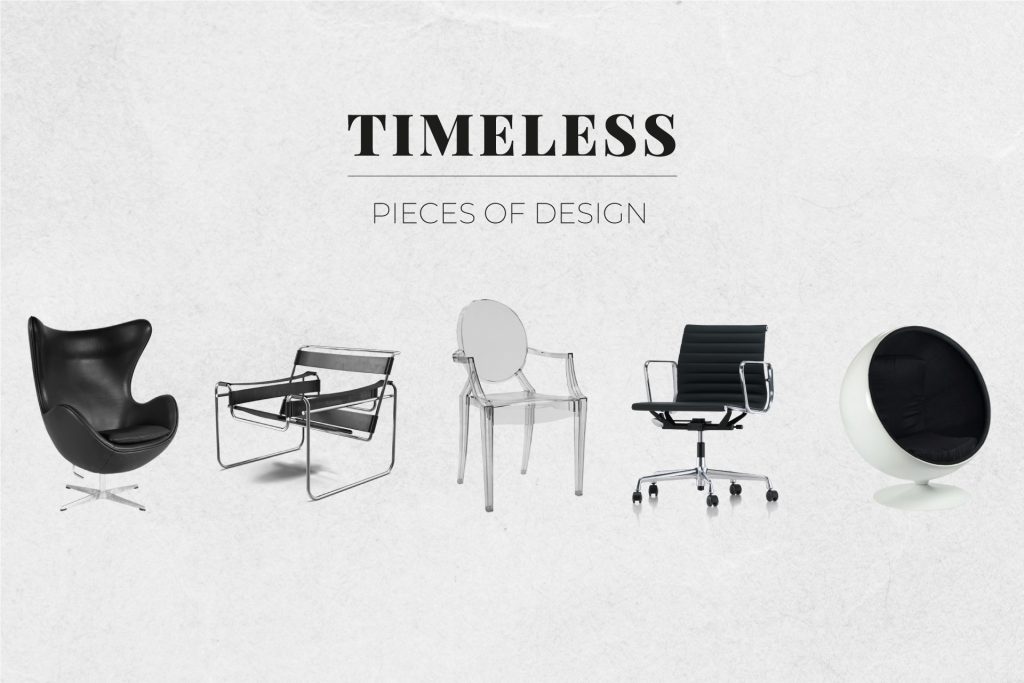 Timeless pieces of the design are those that transcend their time and become symbols of innovation, aesthetics, and functionality. They represent important milestones in the history of design and the world, continuing to influence and inspire future generations. These pieces are not merely physical objects; they are also manifestations of human creativity and visionary thinking.
The impact of these artworks extends beyond the realm of design. They have become cultural symbols and representations of a sophisticated and tasteful lifestyle. They evoke emotions and inspire admiration, both among design experts and the general public. Now, allow us to introduce you to five iconic furniture pieces that you will love to learn more about.
Ball Chair
The Ball chair, also known as the "Eero Aarnio Ball chair," is a contemporary furniture design created by Finnish designer Eero Aarnio in 1963. Known for his innovative and futuristic designs, the Ball chair became an icon of Pop design due to its capsule-like shape that provided isolation for the seated person. The capsule motif was popular in the late 1960s and was inspired by the public's fascination with space travel, influenced by the Apollo missions. The rigid geometries, synthetic materials, and futuristic capsule-like character completely dissociate the chair from nature and point towards a technological future.
The purpose of this design was to create a "room within a room." The intention was to have a chair that would allow people to have a private and intimate space even in public areas. The chair's shape reduced external noise, providing a more tranquil and relaxing environment. This piece is made of fibreglass and upholstered with various types of fabric or leather.
Clear Ball Chair in the living room | Credits: Aarnio Originals
Classic Ball Chair | Credits: Emmas Blog
Egg Chair
The Egg Chair is a design piece created by Danish architect and designer Arne Jacobsen. The chair was designed in 1958 as part of a broader design project in Copenhagen, with the purpose of providing privacy and comfort to its users. The characteristic shape of the Egg chair resembles an eggshell, with a curved and enveloping backrest and an ottoman intertwining all this comfort. Its curved and innovative design broke all expectations for the time, gently curving inward, resting on a star-shaped swivel base, and adjusting to the user's weight, becoming an emblematic symbol of the modernist movement.
Over the years, the Egg chair has continued to be highly sought after, appearing in numerous films, television shows, and design exhibitions, further solidifying its position in the market. Currently, the Egg chair is still manufactured by the Danish company Fritz Hansen, which holds the production rights to the authentic Egg chair.
Egg Chair by Arne Jacobsen | Credits: Vanlandschoote
Egg Chair in camel leather | Credits: Pinterest
The design of the Eames Aluminum Group is relatively simple, as it consists of only two main elements: the single-piece seat cushion and the aluminium structure. This minimalism is due to Charles and Ray Eames' construction method in 1958, resulting from their continuous exploration of aluminium as a material for furniture. Characterised by its lighter aluminium structures, which were created using a die-casting process, the chairs have a clean and minimalist aesthetic with elegant lines.
Currently, the Eames Aluminum Group chairs continue to be produced and sold by Herman Miller. The chairs are available in a variety of finishes, upholstery options, and configurations to cater to different preferences and needs.
Eames Group Aluminum Chair | Credits: Prooffice
Eames Group Aluminum Chair in the office | Credits: Pinterest
Louis Ghost Chair
The Louis XVI chair has undergone various redesigns and interpretations, mostly focusing on fabric upholstery and colour choices. However, Philippe Starck, the designer of the Louis Ghost Chair, created something different. He reinvented the classic Louis XVI armchair by reducing it to a silhouette, transforming its rounded back into a medallion shape, curved arms, and straight legs, all in a single transparent plastic chair.
Launched in 2002, it quickly became an iconic piece of contemporary furniture and has since accumulated numerous awards and accolades. The transparent nature of the chair allows it to seamlessly integrate into various design styles and environments, making it versatile and adaptable.
Louis Ghost Chair with classic decoration | Credits: Smart Furniture
Elegant Louis Ghost Chair in the dining rotom | Credits: Pinteres
Wassily Chair – Model B3
The Wassily chair, also known as Model B3, is an icon of modern design. Designed by architect and designer Marcel Breuer in 1925-1926, the chair was named "Wassily" in homage to the painter Wassily Kandinsky, a friend of Breuer and an admirer of his work.
The Wassily chair is recognised for its chromed tubular steel frame, leather seat, and backrest. It is considered one of the first modern chairs to use tubular steel as the main material. Breuer's revolutionary design featured clean lines and a minimalist aesthetic that reflected the influence of the Bauhaus movement, of which Breuer was a part.
Wassily Chair by Marcel Breuer | Credits: Pinterest
Wassily Chair with its chromed tubular steel frame, leather seat, and backrest | Credits: 3D Sound