Salone Del Mobile Milano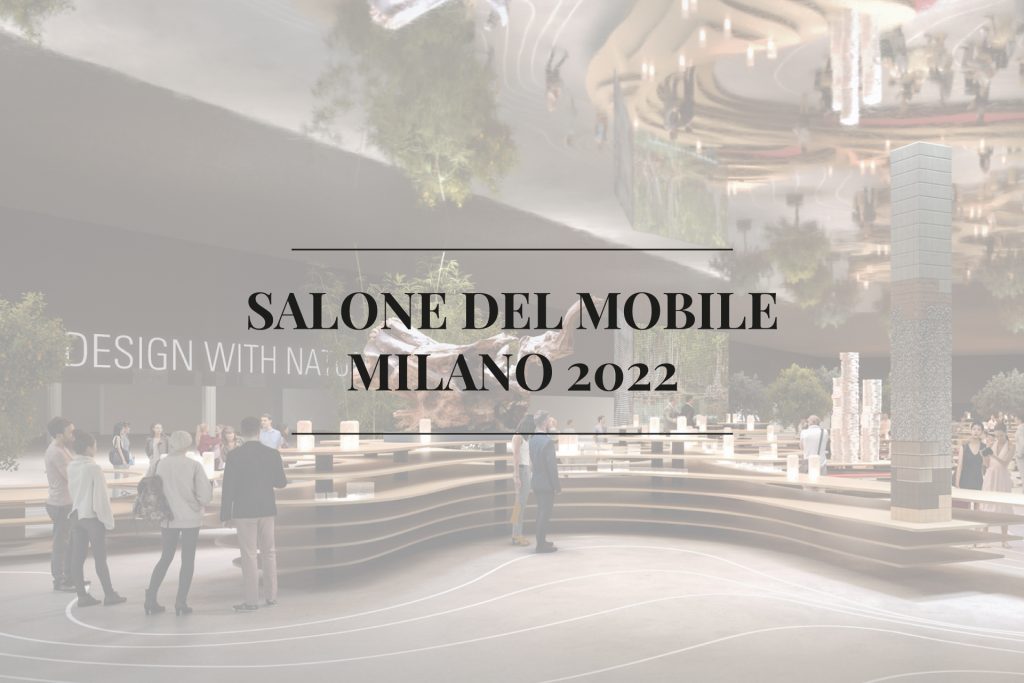 The 60th edition of the Salone del Mobile Milano has a date scheduled to surprise again. From 7 to 12 June 2022, the Fiera Milano will be filled with innovation and creativity, with special attention to sustainability. Designs and aesthetics that make us delight and transport us to another world.
What is it?
The Salone del Mobile is an international furniture fair in the city of Milan. The whole city stops to spin around this prestigious event, where you will feel overwhelmed with design exhibitions everywhere you go. Whether you are a professional or particularly client passionate about the topic, this is an event that all design lovers should visit. Here you will find new opportunities for reflection and inspiration about the world of design.
Italian and international brands will expose their innovative concepts and designs to the world, launching exclusive products in each of the Salone del Mobile's three main categories. The Classic side will be seen in timeless style and traditional furniture, a reinterpretation of luxury mixing the most classical style with more contemporary designs, as well as pieces that highlight functionality, innovation and bring out a wonderful sense of luxury. 
Salone del Mobile Milano
Milan 2022
In 2022, the Salone del Mobile in Milan will focus on the reimagining of home environments, their new role as a work area and design solutions that bring much-needed flexibility and versatility.
With the furniture sector undergoing some transformations, professionals will come across an event adapted accordingly this year. Spaces that are more sustainable, innovative and open to the public via their app, with content on offer, from podcasts to increased presence on all prominent social media.   
The 60th anniversary celebration of the fair will feature an installation by architect Mario Cucinella, with a 1400 metre space in Pavilion 15. Putting the events of recent years into perspective, the architect has created a space that emphasises social connections and environmental awareness, calling it "Design with nature". The emphasis is on sinuous silhouettes made from recycled and green materials. This project is essentially based on themes such as ecological transition in urban areas.
"Design with natur" Theme of another edition Salone Del Mobile Milano
Once again, the Stylish Club team is thrilled to be presenting at Salone del Mobile Milano 2022 the design pieces you have dreamed of having. In a unique perspective of designs collected for this fair, our team has been preparing a new selection of products that will certainly surprise you.
In a Haussmanian inspiration, you will find in our stand the noblest characteristics of this style. A discrete colour palette, between off-white and white, an avantgarde atmosphere that emphasises the nature of the materials, the simplicity of the designs and the sophistication of unlikely combinations. Our brand now arrives to bring out innovation, style and luxury in the most iconic design pieces.
Stylish Club in Salone Del Mobile Milano – Capri Villa concept
Capri Villa – A new concept of living
Incredibly endless horizons that expand the beauty and rejuvenate the Italian countryside. Cultural and natural treasures are exalted in their fullness in the forms, silhouettes and materials of this villa. The rustic hillsides are the spring of all inspiration to transport the city world in one monument. Located in southern Italy, this villa is a combination of rural and city life, with a perfect symbiosis between interior and exterior that is dedicated to providing modern tranquillity. 
The simplicity for the very perfect shapes, the serenity of the designs produced to fulfll the expectation of an unique comfort, the materials that seek to make you feel in the cosy nature is all that this refuge means. The perfect definition of sophistication is reflected in the simple lines, in an amplitude that brings light and life into home, in a transparency where the truth of the high quality of our materials rests. Atmospheres of silence that make you sigh.
Capri Villa – A new concept of living
Our Products
With a premium collection, Stylish Club has everything in place to bring to the capital of Italy luxury, more organic designs that fit perfectly in a minimalist style as well as modern, having as a priority the functionality and practicality of their ambiences. 
The walnut wood, the microfibers and also the bronze metals are some of the materials selected to finish and compose this exclusive design. See firsthand which products we will bring to you!
Extraordinarily versatile, the Landform sofa is designed to accommodate all requirements of layout and use. Its eclectic style makes it capable of embracing an interesting variety of tastes and offers several customised design solutions. A comfort you can feel in your eyes.
Details of Landform Sofa
Landform Sofa
With a comfortable backrest and supportive arms, the stylish Lanform armchair upholstered in suede fabric features matte American walnut legs. Nordic-inspired in grey and beige, this armchair adds a warm, minimalist touch to any setting.
An excellent support for the dining area, the Lanform sideboard in a dark oak frame brings out its beauty in the fluidity of the design conceived to be practical and functional, while at the same time elevating the decor of the room. The dark emperador marble surface and bronze metal base feature the elegant signature of Stylish Club in the dining room.
Landform Sideboard
A piece that provides the best family moments, the Lanform dining table adds sublime finesse to the dining room. With a blackened oak structure and a polished Sahara Noir marble top, this piece completes the Lanform collection in an exclusive and luxurious aura.
Landform dining table
Landform dining table
The contrast of the velvet covering with the iron base makes the Sublime stool a welcoming piece. Comfort and simplicity make this piece essential to any minimalist environment.
The Sevilha night table is a functional piece that charms with its simplicity and elegance. It features one drawer offering plenty of storage. A piece of furniture in warm tones and luxurious finishes that fits in with any bedroom decor.
Details of Sevilha night table
Sevilha night table
The Milos bed combines light tones and simple lines, appealing to minimalism. Highlight to the simple but luxurious details. The combination of materials underlines the sober and modern design. Customizable in format, it is the ideal choice for any decorative atmosphere.
Olivier side tables feature a curvilinear design line and conical structure, an expression of Scandinavian inspiration. A versatile set of two tables of different sizes, which transforms any environment. The modern design results in a set of Nordic coffee tables, ideal for your living room.
Thanks to its modern minimalist style, the Terra stool is a decorative piece that fits in any room. Versatile and elegant, it adds a touch of charm to your room. It lends a Scandinavian atmosphere to any decor.
Terra Stool
Request more information
Didn't get a chance to visit us? Through this link you can receive all the sales material and novelties presented at the Salone del Mobile 2022 fair.