Modern Coffee Tables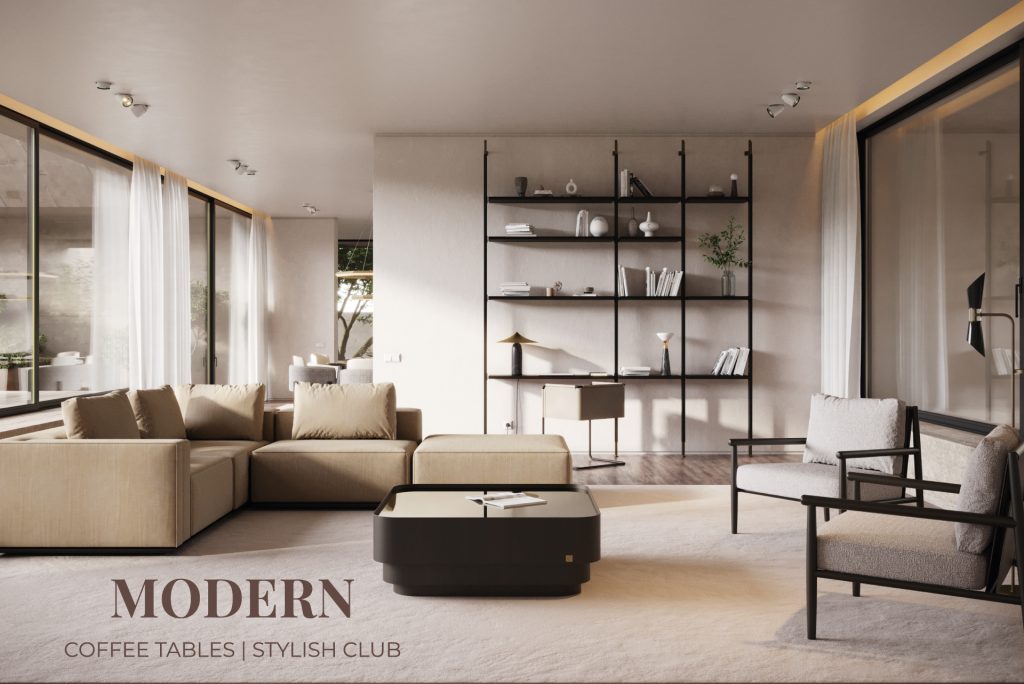 The meeting place of the living room and the coffee table brings together conversation, support for leisure and relaxation moments, and an essential aesthetic addition to the living room decor. The interior design of this space often vibrates and stands out due to the right choice of this piece to compose the environment.
At Stylish Club, coffee tables are highly sought-after pieces to include in different projects for their versatility, taste, and refinement that easily fit into various design styles. Today, we emphasise the importance of this piece in the space and present coffee tables from Stylish Club that you can't miss to complete your living room.
The Center of Social Gatherings

A coffee table assumes a central role, nestled near the sofa, and becomes the heartbeat of social interactions. Whether engrossed in conversations, hosting meetings, or enjoying entertainment, this piece serves as a welcoming surface, keeping everything you need at arm's reach and enhancing the comfort of your guests.
Bridge coffee table in the contemporary living room
A Key Decorative Element

With an extensive array of styles, materials, and designs to choose from, coffee tables wield the power to profoundly influence the aesthetic of a living room. They seamlessly complement the existing decor, establish connections between diverse elements within the space, and can even take on the role of the room's focal point.
Modern and sophisticated living room in neutral tones

Versatile Functionality

Beyond its primary function as a support for essential items, a coffee table offers a versatile flat surface for a myriad of activities. It readily transforms into a base for board games, an impromptu workspace, a platform for displaying decorative treasures like vases or books, and much more. This multifaceted versatility elevates the practicality of living rooms and social areas alike.
Embrace concept for Salone del Mobile Milano 2023
Capri Coffee Table
Harmony and Proportion

In the art of interior design, coffee tables play a pivotal role in achieving balance and proportion. By visually anchoring substantial furniture pieces such as sofas and armchairs, they contribute to a harmonious and unified arrangement. This fundamental element nurtures a feeling of equilibrium that emanates throughout the entire living space.
His & Her Collection
Stylish Club's Coffee Tables
Elevate your living room with the exquisite coffee tables offered by Stylish Club. Our products infuse your space with personality and refinement, and they are fully customizable in terms of materials and finishes, allowing you to create a versatile and exclusive piece. Whether you prefer modern or contemporary aesthetics, our extensive collection boasts an array of elegant and functional tables to suit your taste.
The His coffee table exudes an elegant and contemporary aura, adding a unique touch of glamour to any living room. Its square structure and wooden top create a harmonious blend of modern and rustic accents, making it an ideal choice for both spacious and minimalist settings.
His Coffee Table
Drawing inspiration from the Nordic way of life, the Natur Collection embodies the essence of "less is more" with its natural and minimalist design. Meticulously crafted with a profound respect for nature's silhouettes, the Natur coffee table is constructed using only the finest quality raw materials, ensuring an authentic and refined addition to your living space.
Windsor living room by Stylish Club
Natur side and coffee tables
Inspired by the Art Nouveau movement, the Her coffee table stands as a testament to elegance and impeccable design. Consisting of two tables with distinct dimensions, this set seamlessly harmonizes complementary structures, enhanced by the exquisite tones and quality of materials used. Elevate your living room with this perfect piece, effortlessly adding a touch of sophistication.
Her Coffee Table
Details of Her Coffee Table
The Sahara coffee tables feature sleek and understated contours, offering an ideal profile for integrating into Scandinavian-inspired spaces. Infuse your living room with personality and refinement through this Nordic-style table, which promises to be a captivating focal point.
Sahara Coffee Tables
Elegant atmosphere with round coffee tables
Crafted from top-tier materials, the Porto coffee table boasts a refined and minimalist design. Characterized by its clean and straight lines, this piece effortlessly complements any room within your home, radiating an aura of understated elegance.
Cosy and expressive ambience
Porto Coffee Table