Italian Design: Trends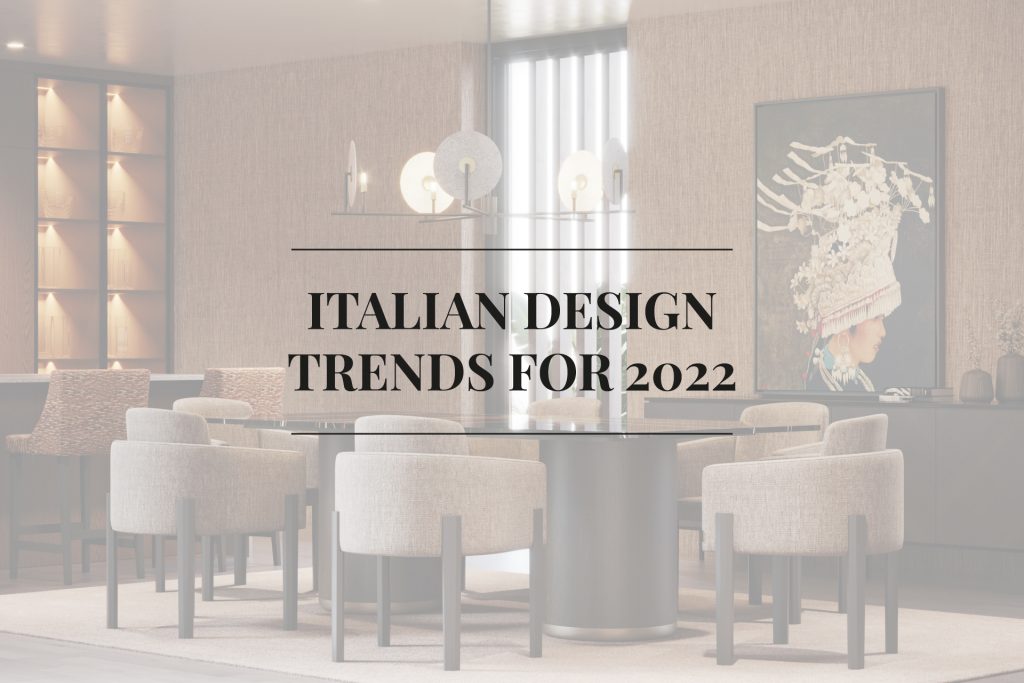 From fashion icons to renowned painters to timeless architecture, for many, Italian design is synonymous with beauty and style. The mixture of earthy tones, ornamental details and luxurious textures are all part of the Italian look, which also makes it a decoration style so appreciated in the world of interior design. Culture is always present in every detail, as it´s in history that the most magnificent details of Italian decoration are based.
Let yourself be carried away by the particularities of Italian design and enter a world full of life, glamour and stories to tell.
Mix of rustic and modern style
Preserving history over time is an important part of Italian culture, especially when it comes to architecture. Many Italians have a preference for preserving the nobility of older buildings but keeping their furniture modern, creating a mix of contemporary and rustic styles.
If you want to "brush up" your home with a more rustic décor start by selecting a neutral and warm colour palette. White, cream and beige tones are mixed with browns and earthy colours, creating a cosy space.
Regarding furniture, metallic materials are an element of choice, provided they do not have a shiny finish, giving preference to brass and copper. In fact, the essence of Italian design is about combining the old and the new in a refreshing balance. Try, for example, combining a rustic table with some designer chairs, or a comfortable, soft sofa with an irreverent lounge chair, and the result will be superb.
Warm and earthy tones
In classic Italian decoration, designers tend towards warmer and earthy tones. Sienna is one of the favourite colours of this style. This choice allows the creation of environments which bring tranquillity and elegance.  Naturally, these tones combine with gold, a sign of wealth, something much embraced by the Italian style.
These colours inspired by nature itself are essential to create a country atmosphere, being the landscape that comes to mind when we think of beautiful Italy. Colours such as gold, yellow, green, red and turquoise are perfect colours to achieve this effect. These colours should be used quite softly, and should never overshadow the simple furniture and centrepieces of Italian decorating projects.
Decorative pieces in earthy tones
Her armchair by Stylish Club
Light with charm
When it comes to choosing lighting with impact it's hard to do better than a modern Italian chandelier, for a complete room renovation with a single piece. To be able to mark your space by its difference look for versions that blend some traditional Italian craftsmanship with a more stripped back modern sensibility, to give it an authentically Italian feel.
In any decorating style zoned lighting in a room brings out the best in all areas of the space. Forms of table lighting, paired with pendant lighting and even wall lamps all work together to form incredible atmospheres.
Wall lamps are a common form of lighting in Italian decor and can accent an entryway, or even accent a fireplace. In Italian design, a hanging chandelier can be crystal chandelier but with a more modern look.
Contemporary dining room
High quality furnishings
In modern Italian decoration, a simple, large sofa in a cream tone, combined with wooden or metal furniture pieces in lighter shades, helps to conjure up a city style from the Trevi Fountain.
Traditional Italian furniture tends to take on a more rustic look with crafted surfaces, usually produced in woods such as oak, ebony, walnut. Dining rooms, cupboards, bookcases, furniture that denotes the passage of time or even hand-painted furniture are excellent options to consider if you want to bring back some of Italy's past to your home.
Social ambience in neutral tones
Large and elegant spaces
Speaking of space, Italians appreciate spacious rooms that allow passage and comfort without too much pressure. The sofas are large and the tables able to accommodate the large family, to share meals and good times. 
To incorporate a bit of Italian style into your home, create an atmosphere that welcomes family gatherings. The ideal is to make this room a cosy place where everyone can stay for hours on end. The furniture is functional, being concerned with practicality in the same proportion as beauty and aesthetics.
Modern dining room