Interior Design Trends for 2023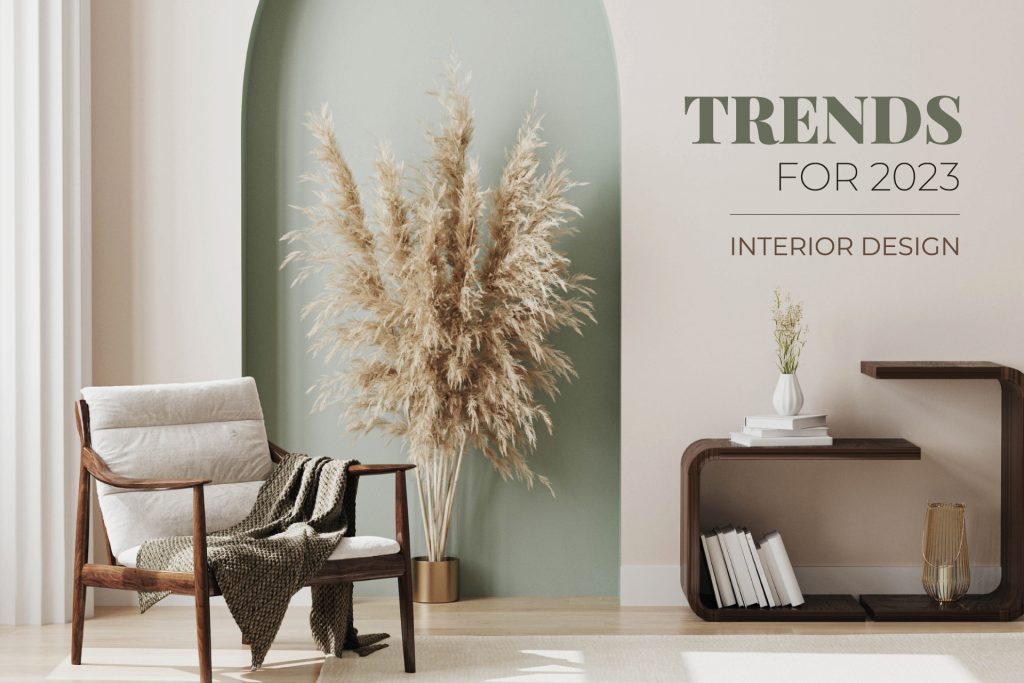 What are the interior design trends for 2023? What can we expect? Well, colour will create atmospheres of excitement with real splashes of nature, the priority will be your well-being and comfort, the past will return with semblances that summon pure sophistication, curves and natural materials will outline furniture pieces, along with lighting that will highlight the most delicate lines and provide authentic moments of pleasure. 
Curious to know how you can include the interior design trends of 2023 in your home? Stay with us and discover the best that decorating will have to offer you in the coming year.
Trend 1 | Colour of the Year
The trending colour of the year, according to Pantone, is Viva Magenta 18-1750. A vibrant shade that exquisitely marks its position and emphasis, rooted in nature and where it expresses a new sign of strength after difficult times.
"We choose this colour because we felt it is an unconventional shade for an unconventional time, something that could gift us with a new vision. It is a vibrant, energetic and vigorous colour that demonstrates a new sign of strength that we all need for a more optimistic future." Leatrice Eiseman, Executive Director of the Pantone Color Institute.
This colour will be seen as the background of your decor, through a monochromatic painting on your wall. It will be the true highlight of the room. On the other hand, we can see this colour in small details that usually already make up your decor, namely pillows, pictures and carpets, where this intense colour falls very well.
Colour of the year 2023
Trend 2 | Above all well-being
Wellness has been a premise in the design of our homes in recent years and will be one of the trends this year. Ambiences oriented towards the privilege of rest, comfort and practicality have an immediate impact on our home lifestyle and in that sense, for 2023, we will be able to see innovation fostering spaces that promote a peaceful and healthy everyday life. Layout makes all the difference in an interior, as free-flowing movement is essential to provide harmonious areas that enable us to enjoy them in the best possible way.
Interior layout trends for 2023 will be heavily influenced by the East. Feng Shui, Wabi-Sabi, and Japandi will be concepts that will drive interior design layout.
Modern and inspiring living room
Trend 3 | Classical and Renaissance Architecture
The symbolism of a past and references to classical and renaissance architecture are predicted to make their way into our home trends in 2023. Designs inspired by heritage and history is something that usually happens within the design world, but this year we will see the influence of the Greek-classical style, through columns, arches and even hand-painted vases.
Niches and alcoves will be strong trends during the coming year, to exalt even more beautiful decoration, as well as to become nooks of function. They help with space optimization, as well as adding stunning visual appeal. There is a nostalgia that comes with looking to the past, and that feeling will prevail in 2023.
Living room with arched passageway | Source: ArchDaily
Restaurant with arched passageway | Source: ArchDaily
Arched entrance hall | Source: Pinterest
Trend 4 | Colour Personality
Next year, more than ever, we will see that our interiors will increasingly be recognized as an extension of our personality and identity, and spaces will be a reflection of this. For design trends in 2023, we see a focus on primary colours in details and accessories throughout the home. The colour trends will tap into feelings like nostalgia, sharing a picturesque air in atmospheres.
There is a return to sophisticated yet relaxed spaces, with plenty of texture and in warm, soft colours.  This guideline comes from the desire to live authentically and be intentional about our choices, simplicity, timelessness, connection, and beauty. This will again be a year of an aesthetic that highlights high quality textiles and craftsmanship.
Colours are authentic touches of joy and this year will also be an understated tranquility. The colour lavender will be one of the protagonists. A rather soft shade of pastel purple that summons calm to spaces and its relaxing property will be greatly appreciated. Sage green and light blue will also be present on the walls of our interiors. 
Dining space with colour | Source: Pinterest
Light green wall | Source: Monstercircus
Living room with dark green background | Source: Go to Walmart
Trend 5 | Curved Silhouettes
During the last two years we can witness the presence of curves taking over our interiors. Whether in sofas, chairs or even coffee tables, little by little organic shapes are taking an even more secure position, being one of the most relevant trends of this year. Giving priority to comfort, we will see that curved pieces will go beyond wonderful comfort, but will present themselves as true works of art. 
Furniture with rounded silhouettes, circular rugs, organically shaped sofas, and curvy chairs will have to be part of your choices for 2023, according to the trends.
Empire Armchair by Stylish Club
Bed with rounded cut-outs
Trend 6 | Art Deco
Reviving and revisiting striking styles of the past will be an interior design trend for 2023. Interiors will begin to move a little away from total minimalism and incorporate more decorative and ornate styles, such as Art Deco design. We won't see any great exaggerations, but they begin to rise in small details. Colors will be brighter and more vivid, and geometric and symmetric patterns are reborn with a more modern signature.
Living room with art deco style features
Trend 7 | Sustainability and Natural Materials
With awareness and sustainability at the forefront, it is suggested to us for the coming year to continue to make choices that not only consider aesthetics, but also the health of the mind and planet. The trends we have been following in the world of design project toward greater stability and connection with all that is natural. 
Designs are moving towards furniture produced with sustainable materials and a longer life cycle. Cork and aluminum will be a surprise in our interiors in 2023, for their elegant aesthetic as well as ecological appearance. 
People are increasingly looking to connect with nature and this has inspired the use of materials such as wood, marble and straw, being absorbed into our environments and incorporated with a dash of modernity and style. Marble is expected to be an admired material by 2023, due to its organic and elegant look, natural color palette, and comfortable robustness. Being a natural stone, each piece will be entirely unique, and its very nature brings us the physical security that we have a high-quality piece. 
In decoration, biophilic design will continue to be part of the trends and with even more force. Plants, floral patterns, and allusive colors will influence the way you view your interior design. Investment will go through fabrics like cotton, velvet and wool and materials like raw ceramic and even stone, which will be the featured material of 2023.
Fortune Console
Bridge Side Table
Sahara Coffee Tables
Trend 8 | Layered Lighting
As we already know, lighting is a fundamental element in the design of a home and is proven to have an impact on how you live your daily life and how the layout of the space can transform from one moment to the next. Over the next year, lighting will be enhanced through layering, meaning that we will see lighting that includes different materials, shapes and colors that complete very interesting silhouettes.
This type of lighting that groups different types of lighting, direct and indirect, ceiling, foot or table lighting, allows spaces to have different dynamics and zones with different purposes. A sublime game of refinement and well-being that elevates design trends into stratospheres of sophistication.
Dining room with ceiling and table lighting