Open Floor Plan | Decorating Ideas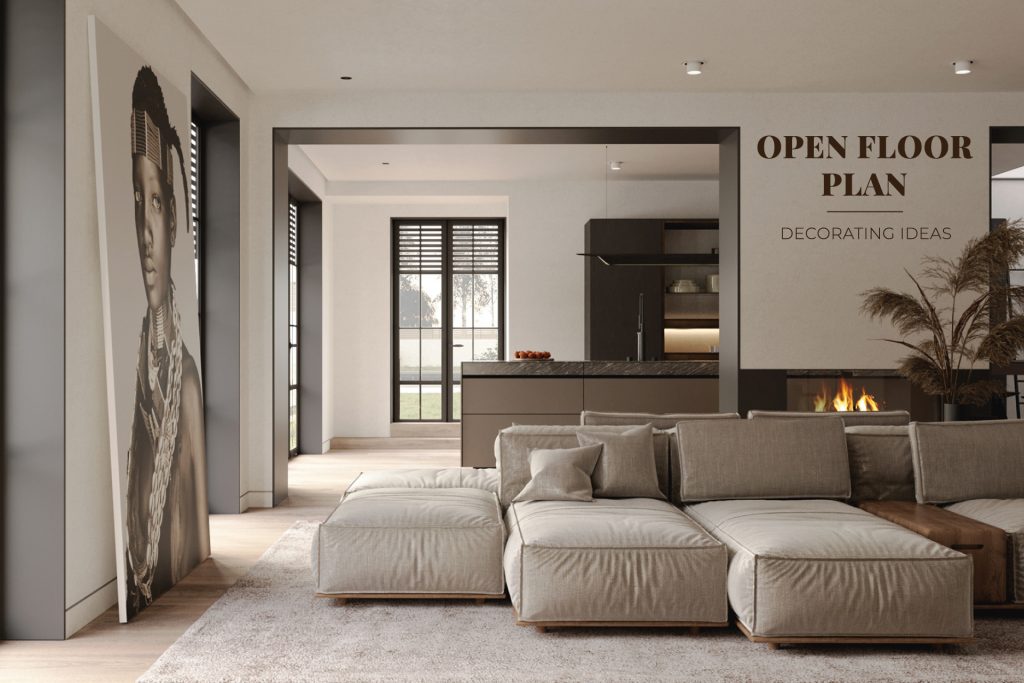 Open plan living has become the signature of a modern home, helping to make our environments more social and inclusive. The fluidity between spaces creates an incredible harmony with multiple functions, bringing together rest, leisure and moments spent with family and friends. This space can include the kitchen, the living room and the dining room.
In recent years, we have realised that it's important that our homes are prepared to be transformed into everything we most need, from an office to a study space or even a training area and for this, there is no need to compromise on the design of our homes.
Essential Areas
One of the first steps to take when designing an open space is to identify a few essential points for the space and work around them. This way, you will lessen the risk of creating a cluttered environment and not have an overly large space. What we are looking for is to create the exact opposite, a cosy space.
The key to creating a cosy space is in defining areas. Certainly, in a living room with open space, the most important nook is the seating area. In this sense, a soft and comfortable sofa along with an armchair complement this space beautifully. In the dining room, you can opt for some elements such as the dining table and chairs, and also a sideboard that matches the rest of the furniture.
Creating zones within a larger space helps to give purpose to this large ambience. The connection, for example, of the kitchen with the dining room or the junction of the living room with the dining room needs to be defined so that everything is in harmony. This form of layout doesn't detract from the aim of creating an open space, it just gives structure to the way you organise and use the space.
Open Space Interior Design | Pontevedra Villa Project
Colours and Materials
The tip to contemplate an open space in your couple is to coordinate colours and materials. This way, even if you outline different areas, you will maintain a coherent style throughout the space, creating a visually pleasing environment where everything looks well-balanced.
Maintaining an aesthetic flow through open space is paramount. Key design features such as flooring and recessed lighting should be consistent. Colour palettes in different spaces should complement each other. Adding layers of texture and different shades to highlight and accentuate the points you want is a great option.
Maintaining a cohesive colour scheme throughout is the best for a balance open space. Opting for a neutral colour to be the dominant colour and then one or two bolder shades to add visual interest notes may be a safer choice. However, if you identify with more flashy colours let yourself go, always taking into consideration the different areas and moments that this space holds. 
Scandinavian open floor plan | Source: Jota Barbosa Interiors
Sevilha tv cabinet
The Right Lighting
One of the challenges of lighting an open space is how to make it work from a practical point of view, while at the same time making the space feel warm and inviting. A well-thought-out lighting scheme can help you find the right balance between function and ambience.
Lighting can be classified into four main types of functions: 
General/local lighting– Ceiling lamps or chandeliers that spread a basic light throughout the room;
Work/functional lighting – Reading lamps by the armchair or sofa, lighting over kitchen worktops and desk lamps;
Spotlighting – accent and directional light or spotlight aimed at an artistic wall, artwork, or bookcase or directed to perform specific tasks; 
Mood/decoration lighting – Indoor and dim lighting, small opaque lamps, chair lights or bright light sources. Used to highlight certain features and add a warm atmosphere;
Identify areas that need stronger, more practical lighting and those that will benefit from some more sober lighting. In this sense, 3 types of light can occupy your space, direct, diffused and indirect light. This way you can combine the mode that best suits your tasks.
Ceiling and floor lamps in the minimalist living room | Source: Jota Barbosa Interiors
Reading corner in the living room with empire armchair | Source: Jota Barbosa Interiors
Transform the Atmosphere with Rugs
One of the best tricks to using open space interior design is to use appropriate rugs to demarcate and cosy up each area. If there is no natural division between rooms, one of the solutions is to use rugs to create this separation.
Different colours and textures are associated with specific rooms in the house. You can use rugs that portray the different qualities you want to highlight through the use of texture. One suggestion is to use the fine wool called Mohair in the living and dining area. The shape of the rug in the dining room depends on the tabletop. The shapes of the rugs influence the area you want to highlight.
Consider equally the size of this piece, because a rug that is too long can completely dominate the space, fading the other pieces, and a rug that is too small can get lost in the environment. The rounded shape of the rugs can be an interesting option to soften a dining room with furniture in straighter lines, being visually more pleasant.
Mid-century open floor plan | Miramar Villa Project