Kintsugi as a Design Style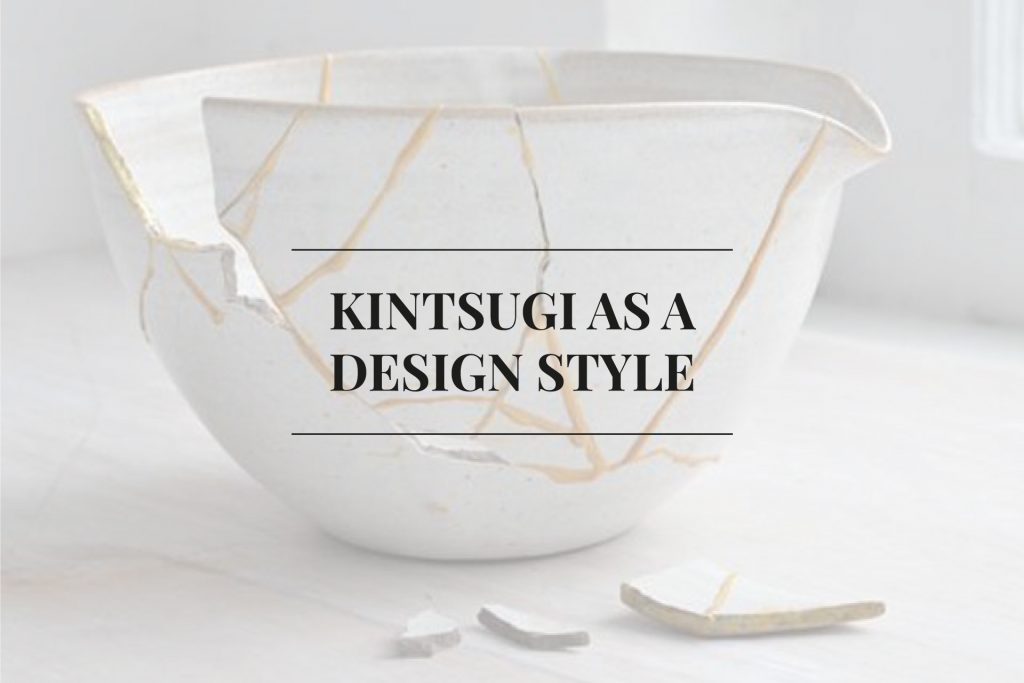 In a translation of "golden journey," Kintsugi is a concept that comes from ancient Japanese art, which consists of patching broken pottery with a powdered glaze of gold, silver or platinum. What makes this piece so special is instead of trying to hide the damage and imperfections, this philosophy celebrates them.   
Many look to the Kintsugi philosophy as a guide to finding happiness and balance between mind and spirit. The essence of this style follows the ideology that the journey is as important as the destination. See how this style has become a design philosophy, where and how it came about, and how it has become a trend today.
History
The art of Kintsugi began in the late 14th century during the reign of Ashikaga Yoshimasa, from 1449 to 1473, in the Muromachi period of Japan, where he sent a broken tea bowl back to China to be repaired. 
It's said that upon its return, the damaged bowl was kept together with poor quality staples, inspiring Japanese craftsmen to find a way to repair the broken pottery in order to make it good as new, or even better.
Ashikaga Yoshimasa House | Credits: Reisen und Essn
Kintsugi Technique
The Kintsugi even repair technique, which uses a traditional lacquer made from tree sap that has been used as glue and paint by the Japanese for over 9000 years, sprinkled or mixed with gold dust to "glue". The secret lies in joining fragments together and giving them a new and more exquisite look. Each piece is unique because of the chance with which the pottery shatters and the irregular patterns that are formed from it.
Kintsugi Technique | Credits: Forbes
Kintsugi: The Art of Scars
In these pieces, scars are everything that you should highlight with pride. It's like scars, which leave different marks on each of us. We shouldn't throw away broken objects, because when they break it doesn't mean they are no longer useful, but a sign to be seen in a different way. Breakages can become valuable, so always try to repair what seems to be irreparable. In doing so you may find something even more important and with even more special meaning.
This is the essence of resilience. Each of us should look for a healthy way to deal with traumatic moments, learn from negative experiences and make the best of them.
Painting with gold details | Credits: Pinterest
Dining table with golden cracks | Credits: The lane.com
Kintsugi Artists
Eva Lenz-Collier (Berlin, Germany) – This artist works with broken ceramics using both the traditional kintsugi style and a modern interpretation of that art form.
Fukumaru Ceramic & Glass Art Restoration (Vancouver, Canada) – This artist uses traditional kintsugi methods to repair broken ceramics, glass pieces, and other materials.
Gen Saratani (New York City) – This studio performs traditional kintsugi repair services.
Hakata Lacquer Art Institute (Fukuoka, Japan) – This studio offers repairs of your broken ceramics using traditional, natural materials.  
Heiando Kyoto (Kyoto, Japan) – This studio offers repair services for cracks and chips on Japanese tableware, western tableware, lacquerware, and glassware, antiques, furniture, and Buddhist statues. The restoration of pottery can be decorated not only with gold powder but also with various materials such as platinum powder, silver powder, Raden (seashell in-lay), gold leaf and colored lacquer. 
Studio Tank
TANK principal Naritake Fukumoto transformed a "drab" old flat to create the small guesthouse, called Xchange Apartment, which offers artists a short-term residence. This led to a design that integrates traditional craft techniques – one of which resulted in the drizzles of golden-hued resin that embellish the screed floor.
TANK's Xchange Apartment | Credits: Dezeen
Where can we find the art of Kintsugi?
In everything, everywhere. This art has spread through many areas, being applied in elements such as sculptures, decorations, in physical spaces, being much appreciated by artists and fans of this type of design.
See the different ways this art has been expressed.
Kintsugi Graffiti – Bublegumsr – Tirso Paz
Kintsugi Graffiti | Credits: Behance
Kintsugi Style Pattern – Anna Harcenco
Living room with a Kintsugi pattern | Credits: Behance
Bottle with gold texture| Credits: Behance