Greek Interior Design Style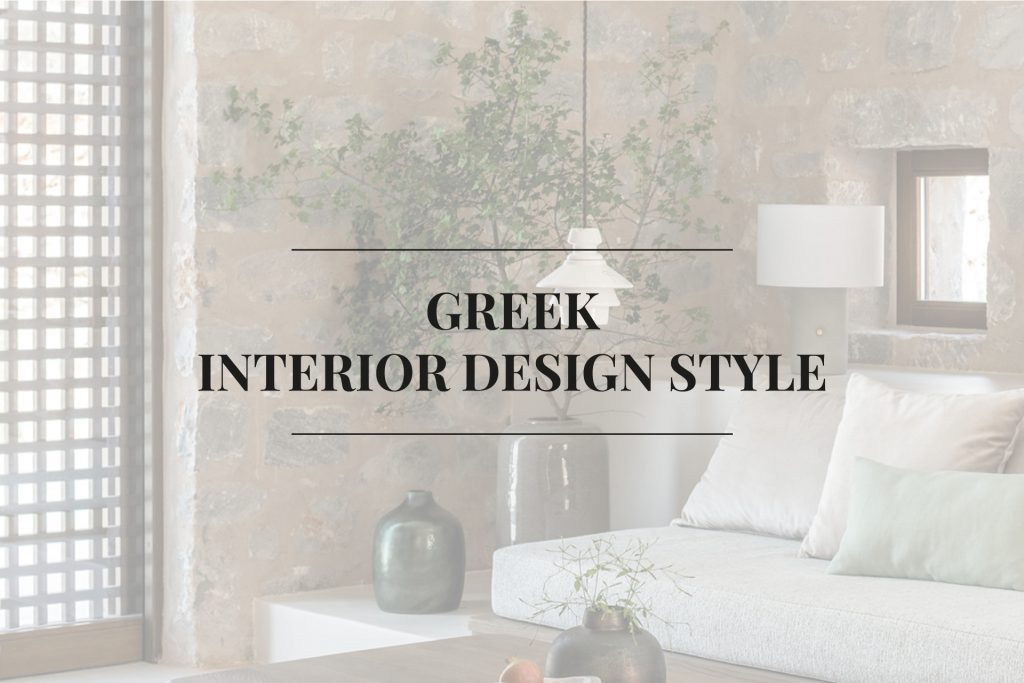 Greek interior design is a pure inspiration from nature that is renewed by the sea and the sky. Its mesmerizing aesthetic conquers by the vision of an idyllic paradise that is the Greek landscape. The interiors comprise a natural colour palette, in a symmetrical balance through shape, pattern and textures. 
The architecture of the spaces are breathtaking for their raw state and deconstruction, which give a personality and dictate an interior design suited to the surroundings. We are now pleased to present some characteristic elements of a Greek interior. Fall in love with us.
Colours
The picture of the Greek image is identified by the shades of blue and white, which give a sharp and clean contrast. The white walls with different shades of blue painted on furniture, windows and decorative columns are the hallmark of a refreshing and picturesque Greece. 
If you want to create modern interiors, it is important to invest in a palette of natural colours and materials, going for greens, purples and reds, shades found in the vegetation and wild flowers that make up the Greek landscape perfectly.
Outdoor area in shades of blue | Credits: Pinterest
Furniture
The beautiful thing about Greek design are the pieces that all have a handmade touch. Wonderfully handcrafted, it can give your space a totally distinctive life. Wood is the finishing material of choice for furniture pieces, especially tables and benches. 
Traditionally, Greek interior design holds many curves and arches. Curved furniture pieces are currently a trend for our most modern homes and having such a piece, produced with natural materials, will certainly give a luxurious refinement inspired by the most eclectic Greek islands.   
Here are some suggestions of pieces that Stylish Club has to offer to fit your Greek decorative style:
Club Armchair:  https://stylishclub.pt/product/club-armchair/
Olivier side tables: https://stylishclub.pt/product/olivier-high-side-table/
Landform Sofa: https://stylishclub.pt/product/landform-sofa/
Club armchair by Stylish Club
Olivier side tables by Stylish Club
Landform Sofa by Stylish Club
Fabrics
The fabrics of traditional Greek design are inspired by nature. Leather, wool, linen and silk are the most popular choices to apply to the different decorative elements.
During summer, the heat and sun invade the Greek city, and for this reason, lighter fabrics are the choice of interior design lovers. The softer curtains evoke a typical Greek style as well as provide a pleasant freshness to the rooms.
Greek decoration | Credits: Pinterest
Greek minimalist bedroom with curtains | Credits: Pinterest
Walls
Greek interiors radiated an energy that was tending to be more rustic, with exposed brick and stone walls. The stone was used to keep the house cool due to the high temperatures of the climate.  This design provides a very welcoming look and is a beautiful way to bring out the authenticity and origins of the materials. 
Arched Entry Hall | Credits: Auspex Creative Studio2
Stone Walls | Credits: Eleanthi Boutique Residences
Ceiling / Floor
Natural stone primarily underpins Greek interior design, specifically limestone or marble, the most popular materials in this modern decor. For a more classic look, stained concrete is also one of the most common options. Stone floors give a sense of elegance with a more simple and refreshing look.
Greek design doesn't involve a lot of bold wall colours but doesn't dispense with painting the ceiling. Ceilings with wooden beams are relevant in Greek architecture but are not always the most viable solution, and in that sense, it is better to paint with a beautiful shade. 
Light greens and lemon yellow are attractive propositions as well as the light blue of the sea. Any colour that recalls the beauty of the ocean fits perfectly in this type of design.
Ceiling painted blue | Credits: Pinterest
Curiosity
Olive trees are prized by the Greeks for carrying the symbolism of health, beauty and wisdom, as they also run deep in the tradition of this culture.  An olive branch would be distributed to the athlete who won the Olympic games, as well as being used as a symbol of peace. 
The elements that are related to the olive tree are highly valued in your interior and you can include them in different places in your home. A wooden or clay pot with an olive tree plant will go elegantly in any nook that needs to be filled.
Minimalist living room decor | Credits: Pinterest
Olive tree in the corner of the room | Credits: Pinterest
Greek interior designers
Maria Chaztistavrou is the owner of LimeDeco, an architectural and interior design company founded in 2007. Based in Kolonaki, the studio specializes in interior designing services for private, professional, and commercial clients. With a strong passion for interior design, Chatzistavrou is a Fine Arts and Design graduate of the Technological Educational Institute of Athens and a member of the Hellenic Association of Qualified Interior Designers.
Interior Designer Maria Chatzistavrou
Marilyn Katsaris is a talented interior architect and designer based in Athens since 2002. After graduating from Rhode Island School of Design with a B.F.A. and a B.Arch., she worked for two years in NYC doing architecture and interior design. She later relocated to her home country, where she offers her services in retail design as well as to private clients. At the same time, Katsaris put her creative gifts to good use and even designs furniture and lights.
Interior Designer Maria Chatzistavrou
Maria Chatzistavrou Residential Project
Leading interior designer Stamos Hondrodimos is the creator and founder of the boutique firm Interior Design Laboratorium, which is based in Athens. "With every project, the aim is to create a unique environment that will leave a lasting impression on its visitors. The common denominator of all projects is the careful, holistic design and attention to detail. We use natural materials that integrate from the surrounding landscape and make reference to tradition."
Interior Designer Stamos Hondrodimos
Text Credits by: The culture trip "6 Greek Interior Designers You Should Know"