French Interior Design – L´art de vivre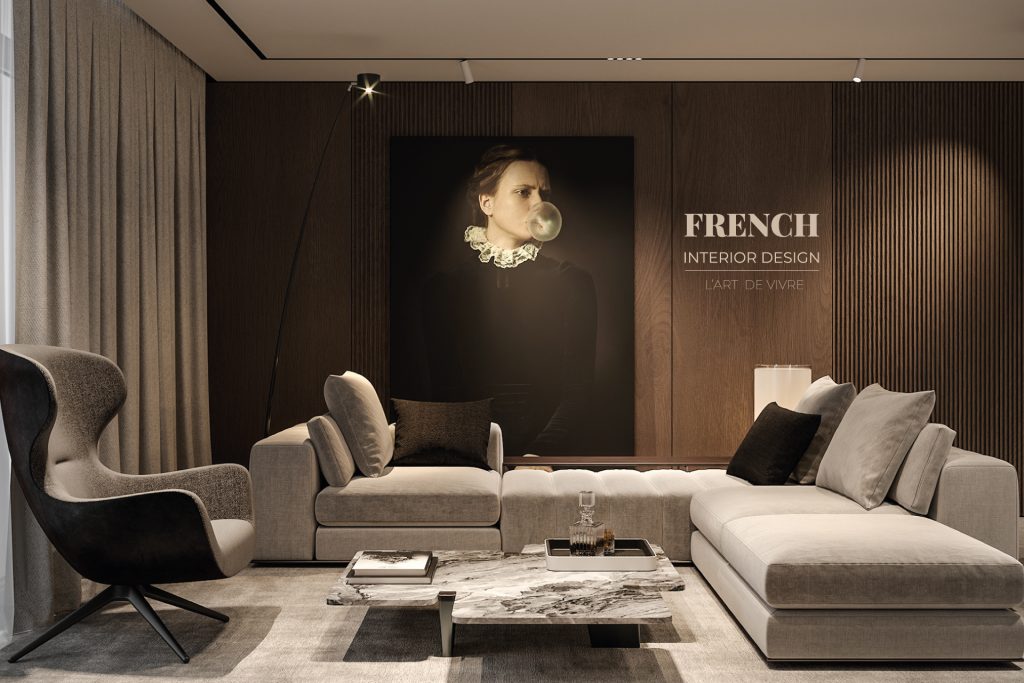 In the marks of a past and the joy of modernity, the French style signs L'art de vivre in its interiors in a very special way. A desire to express reality as it is and the relaxation and beauty of involving livelier pieces and other newcomers to the environment, thus seeking to respect the passage of time, prevail in the spaces. 
French culture is endowed with a beautiful charm and elegance that has carried over the decades, and in interior design, it reveals in a exceptional way. In a fascinating perspective, today we bring you the history and main characteristics of this style as well as a very special project. Don't miss it!
1 | Neutrals and splashes of colour
The selection of shades is extremely important for the French decorative style.  The highlight of the spaces is found in the combination of neutral tones, with an accent of colour, with whites, beiges and off-whites usually being the main colours of the walls, and it is these lighter colours that are the signature of the French style. 
However, colour here takes on a key role in building personality and life within the home. It is common to see ivory, soft blues, emerald greens, and lilacs in warmer tones spread across decorative items, in art, on a wall or even on the ceiling. In the balance is where the eclectic aesthetic of French design lives.
Living room with frames around the wall | Source: Pinterest
Living area with darker and bolder shades | Source: Ruemag
2 | The memory and the reality
French interiors each have their history and it is from this that they make their daily lives spin. The design brings traces of more classical styles so that in a new approach they can shine. Luxury has no expiry date and only demands high-quality of materials and design. 
In the French style of interior design, it is common to see a mixture of furniture from past decades with contemporary pieces. In the same space, we can see a Scandinavian style happen, with vintage pieces and a luxurious style, without any problem. The most important thing is to preserve the memories of more classic design together with the practicality of modern times. French interior design is chic, bold and at the same time personal and authentic.
French marble kitchen | Source: Casa Vogue
Modern bedroom with classic pieces | Source: Pinterest
3 | Lifestyle with purpose
French design is as much about looks as it is directly connected to the lifestyle. At times, they seem like a relaxed aesthetic as it is extremely thought out for the comfort and socialisation of those who live there and so there is a laissez-faire when designing your environments with a French inspiration.  From the furniture to the aesthetics, it's all about function but reflecting and personality. Here fewer pieces will add so much more to the space.
Art gallery in the minimalist entry hall | Source: Homes and Gardens
Chandelier with classic black details | Source: Design Firm
Open space with sculptures and delicate pieces | Source: Pinterest
4 | Architecture and nature
Inspired by Baroque and Rococo styles, French interior design celebrates the gracefulness of architecture and the impact it has on environments. If you want to reproduce this look in your home, favour wall mouldings and frames, large windows, high ceilings, granite and ceramic floors, laminate parquet and marble in light tones. 
A common trend in the French style is the baroque curves to give an irreverent and softer touch, together with the interaction with nature, which is present throughout the ages, and which renews atmospheres, giving it another colour.
Mirrors and chandeliers with gold trim | Source: Behance – Natalia Rybakava
Arched window and natural light | Source: Design Firm
5 | Delicate Furniture
Furniture in French interior design takes on classic pieces along with vintage and modern ones. The ambience is composed of layers of timelessness, luxury and high quality. The credit for being a country with distinctive charm and sophistication also comes through bold choices.
The sofas and armchairs are wooden with characteristic metal decoration and curved back and legs, and the exquisite tables are of slimmer rounded legs and small rugs with plant-based patterns. Gilded mirrors, antique dressers and armchairs that hark back to past centuries are some topics present in French interiors.
Collecting is a cultural trend in France and objects are displayed throughout the house that naturally reflects personalities. Vintage ceramics, antique glass pieces, open shelves, and bookshelves with various books are some decorative notes that we will find in the French decorative style.
Fabrics: Velvet, silk organza, linen and chiffon 
Decoration and accessories: Decorative ornaments, crystal, porcelain figurines, cotton fabric paintings. Rustic wood and use of gilded brass. 
Lighting: Crystal chandeliers, pendant and floor lamps, delicate crystal chandelier and golden mirror
Armchair and console with slim silhouettes | Source: Pinterest
Expressive art in bedroom decoration | Source: Behance Alina Tsaunya
Sage green colour in the living room | Source: Soho Home
Our inspirations

Jean-Louis Deniot is a gifted French interior designer who is naturally recognised worldwide for his luxurious and irreverent interiors.  His design is easily distinguished by its eclectic nature, betting on pieces that span centuries and decades in a current time. This entrepreneur represents with excellence the French interior design, surprising to exceed all expectations of luxury and glamour, simultaneously, of practicality and well-being.
His projects bring to the world of interiors breezes of innovation that resonate throughout the luxury segment, making Stylish Club a brand that shares the same values of excellence, and sophistication combined with high quality and good taste. 
This project carries the true essence of the French design style, combining the most important elements for the style, not leaving us indifferent to the selection of pieces, the finishing materials as well as the concept planned for the space. Get inspired just like us.
Eaton Place apartment designed by Jean Louis Deniot | Credits: Stephan Julliard


This house full of elegance, sobriety and comfort, assumes an intensely luxurious presence without suffocating the eye. The predominant style is contemporary combined with more classical notes, in order to bring some personality to the spaces. The neutral tones, beige, contrasted with darker finishes predominate in the different rooms, in order to create a dynamic and an interesting decorative line between environments.
In a golden atmosphere carried by brass finishes, all ambiences follow a stunning aesthetic line, by the use of lacquer, marble, glass and ebony macassar as highlights. The upholstery arrives to provide comfort to all the existing sophistication.
Enter this world of excellent interior design and be fascinated by our inspirations: https://stylishclub.pt/inspirations/