Designers Who Inspire Us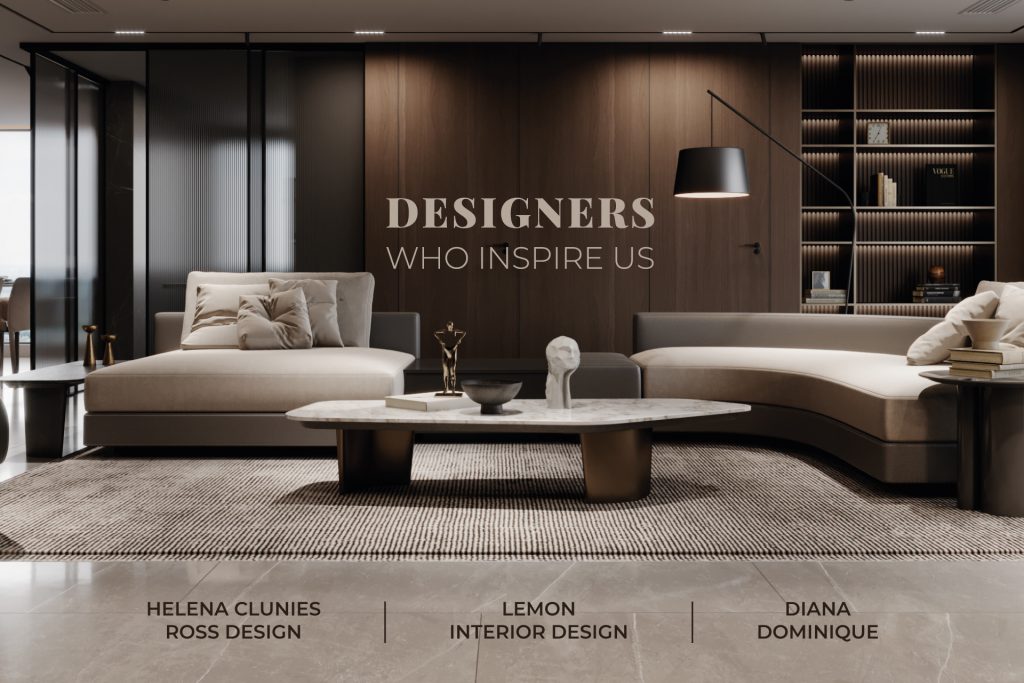 As everything we do best in life arises from inspiration, interior design thrives on various sources of ideas that drive the desire to develop truly innovative projects designed for a purpose and excel in all aspects. Design styles are the trademarks by which we often chart our paths and guide the direction each designer wants to lead their concepts.
Drawing inspiration from the high quality of execution, the bold selection of ideas and pieces, and the agility to transform a space into everything one desire is what adds value, awakening the best we can conceive within our brand. With that in mind, we now present three interior design brands for you to indulge in, just like us.
Helena Clunies-Ross Design is an internationally acclaimed design studio located in both New York and London. With over ten years of industry experience, Helena specialises in the exquisite design of luxury residences and hospitality spaces, overseeing projects from initial concepts to their final realisation.
Having served as the former Design Director at Anouska Hempel Design, Helena has actively collaborated on prestigious hotel and residential ventures worldwide, working closely alongside renowned hoteliers and operators.
With her educational background including a Fine Art and Art History degree (BA Hons) as well as Interior Design training from Chelsea College of Art and Design, Helena skillfully combines her love for art with her passion for interior design and architecture. This unique fusion allows her to craft environments that emanate a sense of warmth and elegance, where meticulous attention is paid to elements such as sleek lines, captivating views, strategic placement of screens, custom-made furnishings, and the harmonious layering of textures.
Interior Designer Helena Clunies-Ross
Project by Helena Clunies-Ross
The magnificence of Helena Clunies-Ross's projects lies in layers of aesthetics with pure good taste, contrasts that underline the best there is, and interesting visual and physical well-being. The rustic blends with the most contemporary features, and in every project, there resides an eternal sophistication where everything makes sense. We now highlight one project that we believe you will adore.
Situated on a serene residential street at the heart of Tribeca, this boutique building embodies a haven of refined sophistication, housing a total of nine exquisite residences.
Once an oil cloth factory, the lobby has undergone a meticulous redesign that pays homage to its original architecture while seamlessly incorporating natural materials. This thoughtful fusion creates a harmonious and enriching ambience, where classic elements seamlessly blend with contemporary counterparts. The lobby has truly undergone a remarkable metamorphosis, emanating an aura of tranquillity and serenity.
Source: Helena Clunies Ross Website
Tribeca, New York Projects
Tribeca, New York Projects
Tribeca, New York Projects

Lemon Interior Design has a talented team of designers and architects who continuously work to redefine traditional design concepts. They have a deep passion for their craft and pay close attention to detail, ensuring that every project they undertake reflects the unique personality of their clients.
Established in 2008, Lemon Interior Design has a rich history primarily focused on residential projects. Through their exceptional performance and dedication to excellence, the company expanded its services to include office and commercial spaces. Recognising the growing demand for high-quality fit-out services, Lemon Interior Design established a dedicated division to deliver the best solutions in the market.
Partners – Elena Oancea and Cristina Capitanu
Project by Lemon Interior Design
The projects of Lemon Interior Design thrive on exuberance and maximalism, an aesthetic that embraces the motto "more is more," with a focus on visual elements that make spaces much more interesting. It's about the detail, more about the attitude with which interiors are conceived than the actual pieces themselves. It's the intentions of boldness and irreverence that fill the spaces and make each project distinct.
Living Spaces of Paris Residential Project
Living Spaces of Penthouse 20th Floor
Source: Lemon Interior Design Website
The Diana Dominique Team comprises interior designers, architects, project managers and coordinators with a combined experience of over 30 years. The team recently inaugurated their new Atelier Boutique in Marbella, an elegant and approachable space for the team, other professionals and clients.
With a passion for crafting personalised interiors that exude both functionality and timeless elegance, they tailor their signature aesthetic to each client's unique vision, ensuring that no two projects are alike.
Diana Dominique – Founder of Diana Dominique Interiors
Project by Diana Dominique Interiors
When it comes to scale and grandeur, Diana Dominique leaves her mark like no one else. Interiors brimming with intensity and impressive proportions encapsulate her projects and create a phenomenal impact on the visual and comfort experience. The design is executed with unmatched attention to detail and the pieces are never chosen for a singular and irreplaceable purpose. Their admiration for interior design is evident in the delicacy that permeates every atmosphere, transforming her clients' homes into authentic monuments.